I can never find the beginning of a story. I'm constantly fighting against my compulsion to drown a person in preamble before replying to a simple question. And I find endings even harder. How am I supposed to wrap up a narrative until I've reached a steady state? And why can't I learn that you never really reach a steady state?
When I look back on the sequence of events that took Haritha and I from living in a rented apartment in Toronto to owning a 150 year old grocery store in a tiny Nova Scotian town, different things come in and out of focus. What can feel like the most crucial plot point one day might not even register as a blip the next. It depends on the (un)steady state I'm currently occupying.
Today is the first day of spring. It is also the one year anniversary of us moving out of the house (and business) that brought us to this province in the first place. So let's start this story there.
Ha whoops I can't. I have to start six months earlier.
In the summer of 2021, Haritha and I decided we needed to leave Toronto. We felt like it was a city we loved that did not love us back, and we had hit a wall with trying to figure out how to run our alcohol-free cocktail company there. Especially after having lost access to our commercial kitchen space during the pandemic.
Initially, we thought we'd stay near the city. I even spent a month and a half gathering data about 60 (!) different towns and cities in a 90 minute radius from our home in Parkdale, a project that ended up getting feature coverage in the Toronto Star (here's a non-paywalled version of that story) and 187K page views in one day.
Looking at real estate listings ended up becoming our go-to nightly activity before we went to sleep. I know this is a much spoofed passtime, but in many ways it really grounded us. It gave us a framework to imagine different possibilities. We learned so much about ourselves and each other as we'd assess houses and cities and towns based on everything from the proximity to water (the nearer the better) to the presence of barn doors in the house (no thank you!).
Sometimes I'd run out of nearby listings though, and so I'd see what was available in Nova Scotia. I had spent all of my 20's here (1997 to 2007), but Haritha had never been.
This was the first listing I bookmarked to show him.
While this building itself felt out of reach (it was $450K, and our mental budget was maximum $400K), looking at videos like this really highlighted for us how the possibilities that sort of move would offer were completely on another level to anything we were seeing near Toronto.
We filed away the possibility of a seaside town as a ten year plan. Then a five year plan. Then we allowed ourselves to consider it as our next move.
To get a sense of how unhinged of an idea that might be, we decided to spend a week exploring the province that September — to give Haritha the opportunity to see if he thought it was actually a place we could live.
Nearly as soon as we got off the plane, he was all-in. And after a week spent in Halifax, the Annapolis Valley, and the South Shore, he decided the South Shore was where he most felt at home.
So we settled into the idea of making this cross-country move.
This represented a huge life shift. Especially for Haritha who had only ever remembered a life in Toronto. But we knew it was right.
We made steps towards buying two different buildings, but neither ended up being right for us. It became clear that buying something from Toronto was going to be tricky. But with vacancy rates at a crisis level in rural Nova Scotia thanks to Airbnb — and with landlords being able to refuse people with pets — renting didn't seem like an option either.
Then Haritha was offered what seemed like an amazing opportunity — managing Front of House for the restaurant that had just been awarded Best Restaurant in the province by Taste of Nova Scotia. The job came with a place to live (a charming apartment above the business), and the use of the commercial kitchen in the off hours (perfect for making Temperance Tonics).
It truly seemed like the best possible situation, and not only because it was going to solve all of our financial and logistical problems at once. It also felt like a chance for Haritha to finally work somewhere that aligned with his values and identity. If you watch the video I linked to above, you'll get a sense of the community care and anti-racist politics that captured Haritha's heart and made him take this huge leap of faith.
Initially it seemed like the only downside was going to be the timeline. They wanted Haritha to start in about eight weeks, a timeframe that overlapped with the tiny wedding Haritha and I were in the midst of planning for ourselves.
In true ADHD form, I want to interrupt the story of the move to tell the story of the wedding. But I'm going to make that its own separate post in the next few weeks — and I'll do the same for the packing and the cross-country drive.
So let's all skip to the part where we were in a car (and a snow storm) with our cats, pulling into the parking lot of the building that we thought would be our home base for the foreseeable future.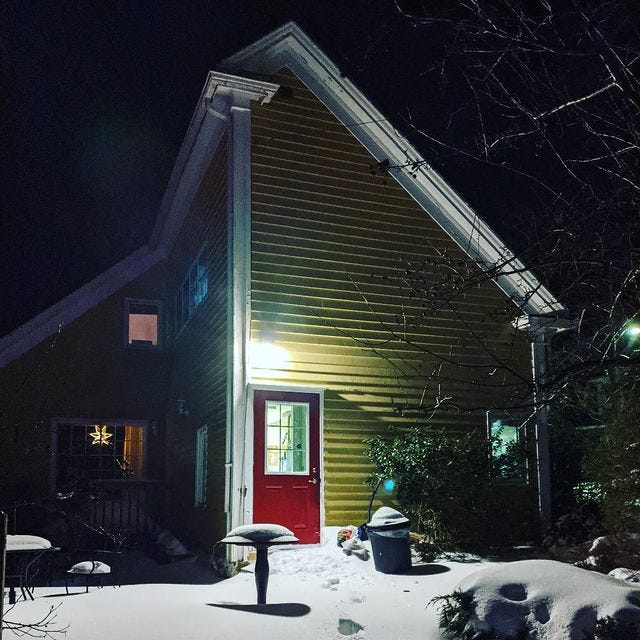 Which I guess it turned out to be, because we could quickly not foresee any kind of future at all.
Just three days after we got there, Haritha was spiralling so badly that I can say without exaggeration that I wasn't certain he would survive it. It turns out we'd uprooted our lives and planted ourselves in a hellmouth of chaos and conflict.
Friends, it was bad. It was so bad that I could just start typing about how bad it was and I don't know if I'd ever be able to stop.
Fortunately and unfortunately, it was the kind of bad that ends up getting media coverage. So if you'd like to hear parts of this story told in Haritha's own words, you can listen to this Canadaland podcast episode about his experience there (and how his employers made off with tens of thousands of dollars in community donations that was meant to build a BIPOC retreat).
It was also the kind of bad that you don't recover from quickly. So even though the day we moved in and the day we moved out were only two months apart, Haritha is still living with the trauma of the time in between. I don't want to lose sight of that, even as I'm about to enumerate the goodness that quickly surfaced. Because unimaginable fortune followed this unimaginable loss, and it's a struggle for both of us to reconcile these realities.
As soon as word got out what a bad situation we were in, two different friends immediately came forward and offered us places to stay. We spent six weeks resting in a tiny glass cottage on the water in Lunenburg, and then another two months regrouping in a rambling country estate in Newport Station.
For the first month after we left, Haritha pretty much hibernated. He kept worrying he had COVID, but gradually realized his brain just needed to rest and heal. When he started to feel more functional, I asked him if he felt up for an adventure. I'd been hearing about how beautiful Hirtle's Beach was, and I thought it could be a nice spring day activity.
Immediately upon arrival we realized it was not a spring day, no matter what the calendar said. There was a young family there (with Ontario plates) who were so determined to have a beach day that their toddler was building a sandcastle in a parka and goggles to protect his eyes from blowing sand.
That toddler was made of stronger stuff than I was, so we quickly bailed on this plan and decided to instead head to nearby Liverpool. It was further down the South Shore, and new to both of us.
After spending some time in an old cemetery, we decided to head home. As we got in the car, Haritha asked if there was anywhere we might want to stop on the way. I said "Oh! That grocery store that was the first listing we saw is still for sale!"
I looked it up, and would add just fifteen minutes to our trip. We decided to check it out.
As soon as we turned off the highway, I got kind of giddy. And the moment we pulled up in front of the building, Haritha's eyes lit up in a way I hadn't seen in months.
We wandered around the property, with Haritha getting more and more animated. To burn off some of this nervous energy, we explored the area a bit, walking to the Lighthouse Park mentioned in the listing. Then we saw a sign promising another lighthouse, so we made our way down the charmingly named Long Cove Road.
Haritha climbed around a bit on the rocks there, at one point throwing up his hands in mock exasperation about how beautiful it all was.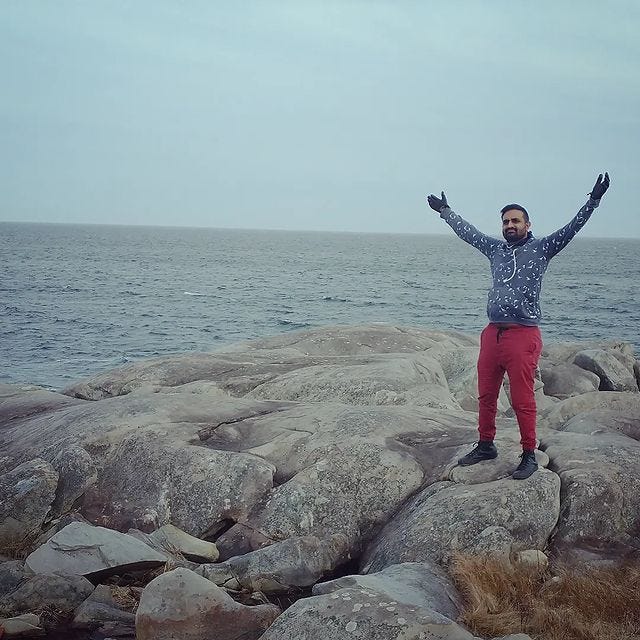 As we walked back towards the car, Haritha started a sentence with "If we got this place—"
I did the very uncharacteristic (for me) thing of cutting him off with "We can't get this place!" and then immediately felt terrible for it. If Haritha was actually able to imagine a big dream like this again, there was no way was going to do anything other than pour my entire heart and soul into making that dream come true.
Once Haritha fell asleep that night, I sent a long and heartfelt message to the Facebook page attached to the closed business. I talked about how we'd come to Nova Scotia thinking we'd found a home, only to have it all blow up so quickly. I talked about how much I loved Haritha, and all of the magical things we would do if we were able to buy the building. I was honest about the fact that we didn't really have any money, but I said I was a resourceful and determined person.
We spent the next two days texting excitedly with the then-owners. Then our human angel of a Realtor Kim Stewart got us into the building on Easter Sunday so we could finally see it in person — nearly a year after seeing the listing for the first time.
It was literally everything we could have possibly hoped for, and for the next three months, my every waking moment was spent trying to buy it.
Initially there was a crew of local investors interested in helping us out. People were throwing around numbers like $50,000 and $100,000 — and the current owners said they would drop the price by $50,000 to help us out (this did not happen!).
I pulled together five years of financial projections and a four stage plan to get the space (which had been closed for a year at this point) reopened.
It began like this:
For A Portrait of Social Isolation and Loneliness in Canada Today, Angus Reid surveyed people across Canada and found:
41% often or sometimes wish they had someone to talk to, but don't
47% feel lonely and wish you had more friendly human contact
62% would like their friends and family to spend more time with them
24% of people who live alone say they always or often feel lonely
The age groups that report the most loneliness are 15–25 and 75 and up
These numbers are heartbreaking, particularly when you take a moment to think about the real human person behind each one. Loneliness is at crisis levels around the world, and it's only getting worse.

While this problem is huge, we feel the solution needs to start small. The cure for loneliness is going to happen person by person, town by town, community space by community space.

Our vision is that through buying this building, we are going to eliminate loneliness in Port Medway.
Re-reading this now, I still love it and stand by it. But our potential investors … were not enthusiastic. They were also not enthusiastic to learn that Haritha and I were on the fence about whether we would want to serve alcohol in the building if we were able to take it over.
Truth be told, I don't think they were enthusiastic about any of the ideas we had for the space, unless those plans involved operating it more or less exactly as it was (ideally under the guidance of the previous owners).
I know what it's like to love somewhere and want it back. I still think wistfully of a place called The Eclectic Cafe where I spent much of 1994 to 1997. Maybe if I was a super rich person, I'd try to get someone to open it just as it was!
But Haritha and I are our own people with our own values, and it became clear that those did not dovetail with most of the folks we were interacting with. (Note! One of these investors did later buy $3000 worth of gift certificates, which was a huge help to us!)
 I took the frustration I felt from that experience, and became even more determined to buy the building and to prove that our ideas were solid.
That determination fuelled me as I had conversations that ranged from the deflating to patronizing to infuriating with various mortgage brokers (deflating), the South Shore branch of the Community Business Development Corporation (patronizing and infuriating), the Atlantic Canada Opportunities Agency (deflating and infuriating), and the LaHave Credit Union (deflating, infuriating, and patronizing).
Fun fact! The government has a program in place that guarantees 75% to 90% of small business loans. But even with the existence of that program — and even though most places we spoke with had a mandate to support community economic development — no one was interested in helping us get a small town grocery store and meeting space back up and running.
Mercifully, we were eventually connected (by another human angel who might want me to leave his name out of of all of my bitterness) with the Business Development Bank of Canada, and a Community Economic and Development Investment Fund called FarmWorks. They both wanted to help us buy the building and to realize our version of the community meeting spot we knew we could create.
The process didn't exactly get smoother at this point. I was still spending much of the day crying over how powerless I felt, but we did start to inch towards an outcome.
Along with a lot of support from friends and family (and the sellers of the building), we finally pushed that dang boulder to the top of the hill. We got the keys on July 29th, and we are now the owners of the very building that captured our imaginations and made us want to remake our lives in a new place a year earlier.
This both is and isn't the right place to finish the story.
Because that was six months ago, and we still haven't gotten the store open.
Because I want to talk about why that is.
Because I'm still so far from a steady state that I keep changing the steady state I'm trying to get to.
But I've already blown past the First Day of Spring in my timezone, and I'd like to get this out there while it is still the Equinox somewhere. So here is what our happily ever after victory looks like: My treasured Haritha, the love of my life, as the platonic ideal of a small town shopkeeper: